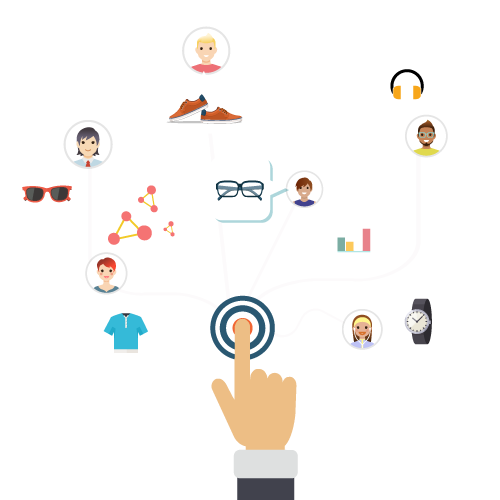 Recently, there has been a lot of anticipation and buzz going around the news that broke out a few days ago –

The world's largest retailer, Walmart, has acquired Indian e-commerce giant, Flipkart for $16 billion
making this the biggest M&A deal in India this year.
Below, are the few tweets that show how people are not very excited about this news and foresee this acquisition as a big threat.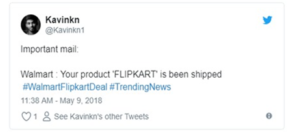 The problem here is that we're just dealing with one side of the story and that people are mostly having biased opinions towards this acquisition. But, it's always more advisable to view the two sides of the coin.
Now, of course, this isn't a new technique, but applying this can, and still does, offer fruitful results/insights.
So, what's on the other side of the coin?
Can this acquisition in any way give a boost to Flipkart's current performance or the expectations that online consumers have?
Let's have a look!
Improvement in Logistics:
Flipkart has always tried to find ways to strengthen its supply chain management with its in-house logistics arm EKart.
But, with the increasing number of Indians getting into the obsession with shopping online, the question has always been-
How will Flipkart gonna keep up the pace of delivering products with faster speed and higher accuracy, something that has always been the strength of Amazon?
Walmart, on the other hand, has arguably had the highest sales per square foot and inventory turnover for the past ten years.
Need Proof?
Walmart, at any given time, operates more than 11,000 stores in 27 countries around the world and manages an average of $32 billion in inventory.
So, with these two giants coming together, there is a high probability that the packaging, warehousing, and logistics will become far more organized, addressing the major pain point of the consumers living in Tier II and Tier III cities in India.
Increase in the number of discounts and deals for the online shoppers:
With Walmart coming into the picture and having a history of being extra-selective in picking up sellers, there will be a huge competition for prices.
This, in turn, will lead to less room for dubious businesses getting registered and selling sub-standard materials at huge discounts, impacting consumer purchase in a positive way.
Also, customers should prepare themselves to see a huge influx of online-exclusive deals from Flipkart.
The whole stunt of putting up massive discounts would now be more effectively executed because of the millions of dollars absorbed from the acquisition.
Globally, Walmart has been known to offer low prices to the customers through its efficient operations.
In fact, according to Aravind of Technopark,
One of the strategies of Walmart is 'Every Day Low Pricing' (EDLP), which is a result of a perfect sync in sourcing, supply chain, and frontend operations.
This will help the e-commerce giant push goods at a much faster rate and cater to the remote audience within a short span of time, thus fighting neck-to-neck with its rival Amazon.
Grocery at the doorstep:
Amazon is already an established player in the digital retail market. It has unlocked its first step towards establishing the future of grocery by taking up the ownership of Whole Foods.
Flipkart on the other hand, couldn't do much in this section despite a lot of efforts and prior investment of 460$ million into E-kart.
It would be interesting to see how Walmart, who is already an established name and is among the largest procurer of perishable-produce and fresh items can add a different color to Flipkart's effort in trying to reinvent the retail business.
But, one thing is certain. All this competitive tussle would certainly give end users a merry time.
They would be able to grocery shop online more often, up from one-two purchases a year to multiple purchases a month.
Conclusion:
Over the last decade, the Indian startup system has seen several ups and downs with the growth of Flipkart and has had a personal connection with the brand's success story.
We don't know yet what can be the later impacts of this acquisition but this is for sure that things will change as two biggest competitors in the online world come neck to neck.
Now, whether the change is good or bad, that is something that we will have to see.