CommerceX Partners with Unicommerce, SARAL-
CommerceX has partnered with Unicommerce, Saral- India's first ever eCommerce summit to be held on 30th May 2020. This would be an event for the entire eCommerce and retail industry with the ambition to deliver a unique platform for all to interact, plan, and shape their businesses which will lead a better future for eCommerce.
As an integrated eCommerce partner, we help brands to grow their businesses through various e-commerce solutions including multichannel strategies, design, technology, and marketing with exceptional expertise & proven processes to scale up the revenues. The event is set to host 20+ industry leaders who will be sharing their experiences, views, strategies and concepts to empower businesses around the country to understand & uncover solutions to their challenges in a post-COVID-19 world.
1500+ eCommerce Sellers, Brands and Retailers both MSMEs and enterprises will be a part of the event and share a single panel together to gather knowledge and explore all potential ways to drive their business to the next level.
Why Partnership with SARAL?
CommerceX is a leading Integrated eCommerce solutions provider for Retail brands anywhere in the digital road-map! We are a new age digital brands enabler agency specializing in providing holistic e-commerce solutions for data driven sustainable business growth. We create an eco-system and service levels that enables fast and efficient growth for digital brands. We are a data driven high performance firm which excels in end to end performance marketing for digital brands across various categories.
We want to help businesses navigate through the uncertainties prevalent due to the Coronavirus outbreak and Unicommerce's SARAL has been designed exclusively to help those businesses, especially since consumers are expected to interact with businesses increasingly through different digital mediums.
The major expectation of businesses all around the country is to find solutions to the issues of bringing their eCommerce operations back on track and diversifying business across multiple digital sales channels to increase profitability.
The discussions for each session have been designed in a way to offer answers to all such queries by the participants through leaders from key stakeholders in the eCommerce ecosystem.
By being a part of this event, retailers, brands, and eCommerce marketplaces can figure out the best possible ways to secure business, and learn from the experts about how to cope up with situations of crisis in particular, how can automation help make the businesses more resilient in the times of crisis.
What will CommerceX & SARAL include?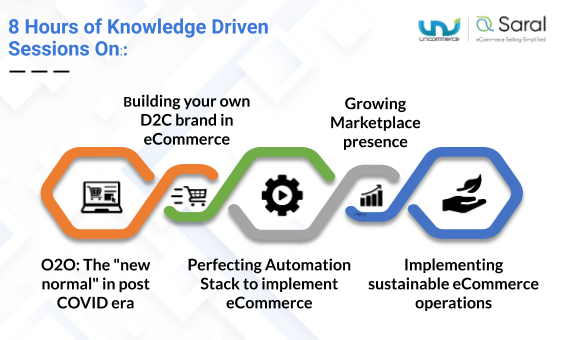 CommerceX caters to all the requirements of an eCommerce firm very closely and provides them with a holistic portfolio of solutions which comprises captive site development, marketplace growth and end to end marketing via Paid media, Affiliate, CRM etc. We would be amongst a very few agencies providing our clients with a strong technology infrastructure backed by a robust operations backbone and providing best in class acquisition metrics.
We are integrated eCommerce partners for our clients which indicates our intent to grow their business as our own and thereby we mainly operate on a revenue share model which is unique and distinguishes us from other agencies. Click Here to know more: Partners
The SARAL event will comprise of 5 unique sessions with panellists from various domains of eCommerce ecosystem including Frontend, Delivery, Payments, Customer Engagements, Logistics and many more who will share their insights on "How can eCommerce Selling be Simplified". The event will solve our purpose to help the businesses lay the foundation for being better prepared for post Covid-19 environment.
Some of the main points of focus in the panel discussion will include:
Building your own D2C brand in eCommerce
Growing Marketplace presence
Perfect Automation Stack to implement eCommerce
Offline-to-Online: The "new normal" in post COVID era
Implementing sustainable eCommerce operations
Every session will have a 15-20 minute Q&A part at the end which will help you to solve your doubts and get the answers of all your questions, allowing panellists to interact and address the queries of participants.
How will you benefit by being a part of SARAL?
The event will be packed with multiple benefits for the attendees and offer a plethora of opportunities for all to interact and network with industry leaders and discover answers to all possible concerns. Some of the highlights include:
Free enrollment – Witness the biggest virtual eCommerce event from the comfort of your homes without having to spend anything on it.
Exposure to large viewers – Via live sessions, network around a wide pool of attendees, and make new connections all at a single panel.
Increased awareness about best practices – Gather knowledge from experts about various important eCommerce practices to streamline operations.
Flexibility of choice – Choose from multiple sessions, attend what interests you and caters to your queries most accurately.
Association with Decision Makers –  Indulge in discussions and hear from various industry pioneers about their perspective on future business opportunities.
Perusal for future references –  Access the recorded sessions later on to refer to important concepts or the flexibility to connect with any of the experts to discuss further on issues impacting your business.
The purpose of CommerceX partnership with Unicommerce, SARAL is to bring the overall ecosystem together in these tough times, helping out each other to enable stronger, better, & smoother eCommerce operations worldwide.
We'll be coming up with more details on Saral and keep you updated on all the progress. Watch this space to know more.
Connect with us for Business & Partnerships