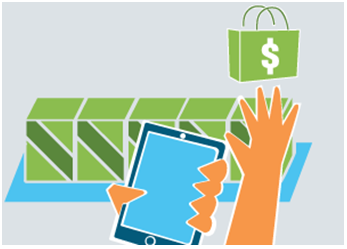 Smartphones have become the remote control of our lives, where every thing from clothing to grocery, is being called at your doorstep with your thumb clicks. All is due to effective sync between the online and offline E-Commerce practices, Let it be inventory, chain management, delivery management and every thing involved in between.
With digital marketing been the primary source of a marketing channel for some brands, it becomes very important to measure the impact of it across all channels. Lately, Many Brands are trying to make Sync between their online campaigns and offline sales. It is understood that there is an impact of the online effects on the offline sales, but how much is what becomes the question.
Many channels are doing this by gathering offline data from the advertiser and try to make sense out of it by comparing the unique click Ids, email ids, phone numbers, and device Ids. Let's see how each channel is solving this problem.
Google
Google ads have a unique GCLID with every ad, which clicked and the user fills a form, can later be marked as a conversion if converted offline against the same GCLID. The problem with this is that you can't track view conversions since the user requires to click on the Ad on the ad.
Setup your Google Conversions: https://support.google.com/google-ads/answer/7012522
Impact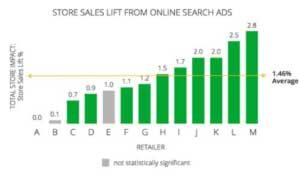 This is store level data accumulated over the August to November 2017 (US-based participation), and retailer ROAS varies between 2x to 14x.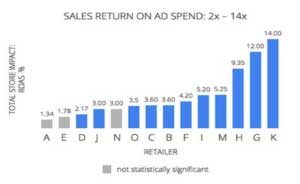 Facebook
Facebook went one step further, and here you can actually track if the person has viewed (even if no action was taken on the ad) your ad, and converted. If he comes to the offline store or a restaurant, you can have his phone number uploaded on the Facebook panel actually see if the impact was from the online marketing. Usually, the match rate of the conversions is between the range of 40 to 70%, at best.
Impact
Many brands are using the Facebook offline conversions technique, especially in-store visit campaigns. MomsCare with Bionic scaled their offline sales and maintained an ROAS of 7.5x, with 16% new users. They integrated their EPOS with Facebook offline conversion API and optimized the ads in real time and automated way.
In a similar way, Max Fashion recorded an ROAS of 26x and 2500 conversions using Facebook offline conversion API. It is a middle east brand for clothing and increased online, as well as drove 25000 people to their stores with online campaigns
Find more case studies at: https://www.facebook.com/business/success/categories/offline-conversions
Beacon Tracking
Beacons can be really helpful in tracking the footsteps in the offline stores and then using mobile IDs, we can track those offline conversions. This is how beacon tracking works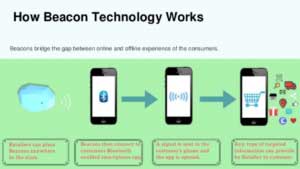 This can be revolutionary when it comes to the measuring the impact of the online marketing, Stores in UK and US has started rolling out beacon tracking, and even shopping malls are doing so, so you can be served Relevant ads according to the Mall you're in.
The World's cultural shift of interaction with brands has changed the way we track our conversions, however, not far majority of the people have realized the power of traction of offline conversions and how it can help in creating accurate impact reporting to online marketing.
The day we would be able to fully understand the online impact on the offline sales and footsteps, the world is going to be a better place for us marketers.